Hinegardner's Other Produce
We have more than just apples!
Other Fruits
We sell many of the different kinds of our produce at Fareway stores in Marshalltown, Tama-Toledo, and Grinnell along with HyVee in Marshalltown.
Strawberries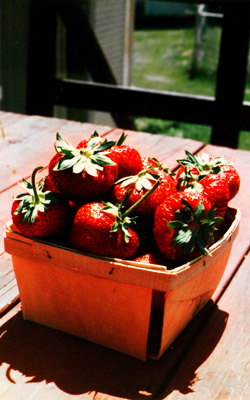 Strawberries are a great addition to our orchard and for many years we have raised "Honeyeye" strawberries. We have 2 acres of delicious strawberries usually ready for picking around June 6th.
First of all we completely cover the field with corn stalks. This keeps the plants a little warmer under the snow. Later we remove the stalks and put them into paths to create a mud free path for our pickers. The berries are in rows about 3 feet wide. We have the fields divided into several sections. Berries are all pre-picked.
Pre-picked berries are sold at $35.00 a flat.
We plan to have berries at our store outlet and farmers markets at this time.
After production is complete the plants are fertilized, hand weeded and watered and prepared for next year. We usually keep a field for 3 production years.
Pears(Stark Delicious)
Very good for eating. Picked when green and hard. When placed in a warm area will ripen in 4-8 days and become a juicy pleasure. You may need a bib!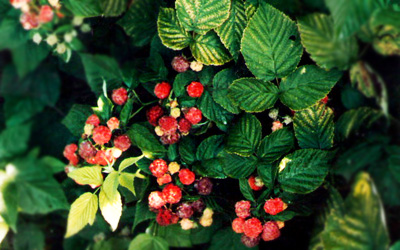 Plums
Small blue fruit with a pit. Sweet and juicy. Ready in late August and early September.
Pumpkins, Squash, & Melons
We produce between 500 to 800 melons a day during this season which lasts about a month.
Cantaloupe Melons
We grow Classic, Torrino, and Amborsia cantaloupe. Ranging in a wieght of 4-8 lbs. and it's the same melon we have been growing for years with great results. They usually ripen around the 5th August and last for about 6 weeks. We sell them at our orchard, Grinnell and Des Moines Farmer's Markets, Hy-Vee in Marshalltown and at Fareway in Marshalltown and Tama-Toledo and Grinnell.
Squash
Butternut, Buttercup, Acorn, Carnival, Delicata, Spaghetti, and Turk's Turban. All of these squash are ripe in September and October. Sold at Des Moines and Grinnell Farmer's Markets, Fareway on Marshalltown, Tama-Toledo and Grinnell and the Hy-Vee in Marshalltown. We also sell them at the orchard.

Pumpkins
All sizes and shapes. Sold here at Hinegardner's Orchard and Fareway stores in Marshalltown, Tama-Toledo and Grinnell.
Fun for kids of all ages!